Heavy Ground
Winner of the
2017 Sally Hacker Prize
awarded by the
Society for the History of Technology
The Hacker Prize honors:
"Exceptional scholarship that reaches beyond the academy to a broad audience."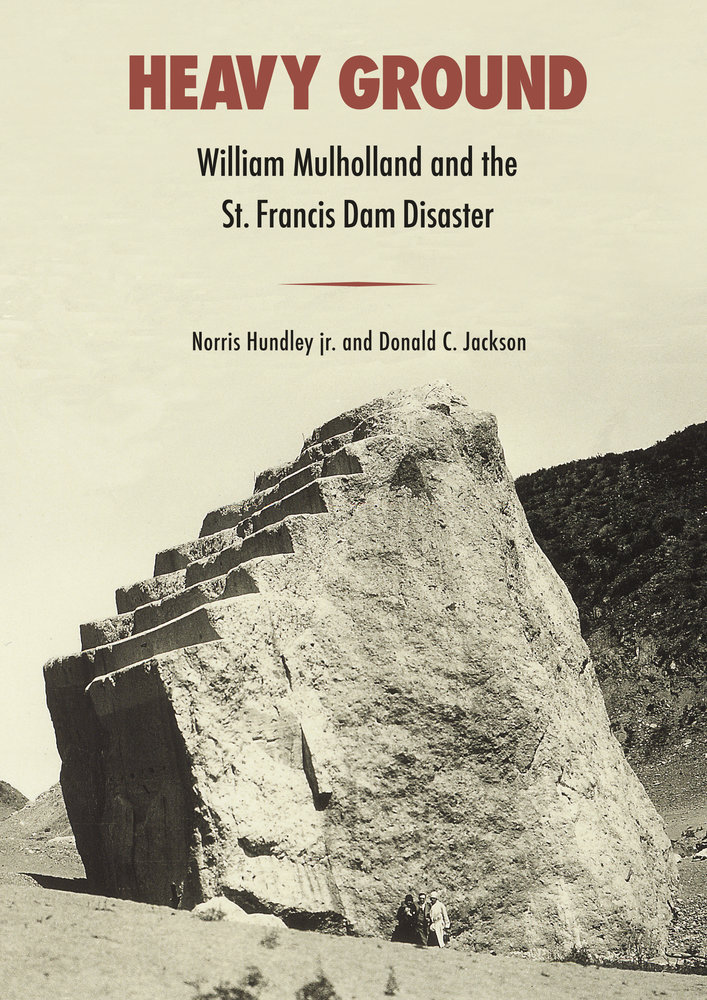 HEAVY GROUND
William Mulholland and
the St. Francis Dam Disaster
by
Norris Hundley, jr. and Donald C. Jackson
Huntington Library Press & University of California Press
A far-ranging history of America's deadliest civil engineering disaster of the 20th century...
Available from
Praise for Heavy Ground:
"Heavy Ground offers a penetrating analysis of the 1928 St. Francis Dam disaster. William Mulholland had designed the dam—so critical to Los Angeles' hydraulic ambitions—and his reputation was destroyed when the dam's late-night collapse killed more than 400 people living downstream along the Santa Clara River. But historians Hundley and Jackson do more than pick through the wreckage: theirs is an engrossing narrative, thoroughly researched, extensively illustrated, and deeply satisfying—the single best study of a very dark time."
Char Miller, Pomona College
"Heavy Ground puts Mulholland's engineering in context and sets him in motion... In the process it does something unexpected and opens a new perspective onto William Mulholland... [bringing him] to life in all his sharp-elbowed, stubborn glory, saddened and perplexed by the St. Francis Dam debacle yet prideful until the end.""
John Buntin, Wall Street Journal, 1/23/2016
# # #
Also available
PASTORAL & MONUMENTAL
Dams, Postcards, and the
American Landscape
by Donald C. Jackson
A path-breaking book in
dam and environmental history
published by
University of Pittsburgh Press
Available From
Praise for Pastoral & Monumental:
"Combining expertise in civil engineering with extensive knowledge of popular images, Donald C. Jackson shows that Americans celebrated dams as beautifying improvements that enabled logging, manufacturing, navigation, irrigation, hydropower, flood control, and recreation. He re-creates the enthusiasm that, despite occasional disasters, culminated during the New Deal, followed by increasing environmental criticism. An engrossing book."
David E. Nye, University of Southern Denmark
"Donald C. Jackson shows just how thoroughly dams captured the American imagination in this stimulating book. The last word on postcards."
Ted Steinberg, Case Western Reserve
"Through the medium of picture postcards, Donald C. Jackson relates the history of dams as a feature of the American landscape, demonstrating the value of such 'ephemera' as a resource for historical inquiry and a means of enhancing our understanding of the built environment. The illustrations are compelling and often surprising."
Carol Poh, President, Society for Industrial Archeology
* * * * * * *
DC Jackson understands the historical foundation of America's hydraulic infrastructure and knows much about the history of dams and water resources development. He also knows a multitude of sources -- both published and archival -- that document this development. Have any questions? Just send him an email; he'd enjoy hearing from you...
Donald C. Jackson. Ph.D
Cornelia F. Hugel Professor of History, Lafayette College
B.S. in Engineering, Swarthmore College
M.A. American Civilization, University of Pennsylvania
Ph.D. American Civilization, University of Pennsylvania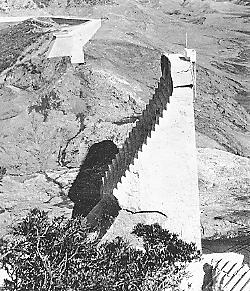 HAVE A QUESTION ABOUT DAM
OR WATER HISTORY?